It's time for the roundup of
Cook the Books' Club June-July 2017 edition
for which we read the novel
Mastering the Art of Soviet Cooking: A Memoir of Food and Longing
by Anya Von Bremzen.
For each contribution (given in order of publication), I will give you the official information (author, blog name and post title) and a brief quote from it — a teaser that will entice you to follow the link and read the details of how the reading inspired the activity in the kitchen.
Now, please, make yourself comfortable, then follow me on a literary / culinary journey to the other side of the world.
---
"I actually felt this was three distinct books - one about her family, one about her and her food, and one about Russian history - and they didn't mesh very well in my mind... But I did like her writing style... I was inspired to make a meal out of it. So, on my way home from the courthouse, I stopped at the market to pick up what I needed for two different dishes. I was intrigued by the Salat Olivier she shared because I have never put apples and fresh cucumber in a potato salad before... Very popular in Caucasus region, there are slight variations [of Chanakhi] from Azerbaijan to Georgia. And though this dish is traditionally baked and served in individual clay pots, I cooked it in a Dutch oven."
---
Wendy of
A Day in the Life on the Farm
prepared
Borshch
"Perhaps it was the narrator, perhaps it was the writing. Probably it was a bit of both. Once the storyline started dealing with Anya and her life, her feelings, her impressions... it got much better. The best thing about this audible memoir was the pdf file of recipes that were included... Anya's version [of Borshch] contains meat, kidney beans and apples none of which I have ever had in a Borscht before. This is more of a stew actually than the soupy Borscht of which I was familiar. I have to say that it was absolutely delicious and I can see why Nataliya missed it so badly. This is much more work than the other beet soups I have made and worth every moment of it."
---
"Von Bremzen describes her and her family's life in the context of the political changes in Russia, the Soviet Union, then Russia again. Her style of writing is engaging — with the right balance of humor and seriousness. The food she describes is intriguing: even when we don't feel like we want to taste it, the emotional context comes alive in her words... Towards the end of the book, she talks about writing Please to the Table: The Russian Cookbook ... I had already put that book in my wish list, after browsing it in search of the recipe for a Russian dish. At this point, I was ready to get it."
---
Amy of
Amy's Cooking Adventures
prepared
Chilled Borscht
"
In the book, the author strives to meld a history lesson, memoir, and food into a seamless, touching story. Instead, the book read like a dry textbook, followed by a memoir with too many people to keep track of... However, I did get my foodie inspiration in the form of Borscht, which is mentioned several times as a warm winter meal and once as a light, chilled summer meal... I made my recipe for chilled borscht and served it hot for dinner (oh my gosh amazing!), then I served the leftovers chilled the next day for lunch (meh). Yeah, the amazing soup was not quite as amazing served chilled. I nibbled the cucumber pieces out of my bowl, then stuck it in the microwave. Much better!"
---
Terri of
Our Good Life
made
Salat Olivier
"I can't say I loved the book, I kept losing the story of interest to me in the deluge of Russian history as seen by the author as a child, teen and grown up. What I did love, however, was the role that food, or the lack of it, played in her life. What I loved about the book was the apparent deep connection that the author has with her mother and how they developed their relationship over food. This resonates with me, as I am often asking my mom to share recipes from my childhood with me... It was an easy choice for me to choose this dish. First, my maiden name is Oliver and our family loves my mom's potato salad. It has a similar base of potatoes, boiled eggs and mayo."
---
"My sister and I both read this book. She loved it and thought it was hilarious. I wanted to love it and think it was hilarious. Although I enjoyed the book and am glad it was a CTB feature, I felt like I was reading more of a history book than a memoir of 'food and longing'... As her story becomes her own and she and her mother emigrate to the US, I became more responsive. I even thought her description of her early childhood in the USSR as a bit witty, ironically enough... I could have done borscht or madeleines or gefilte fish or a number of the other recipes mentioned in the book. But instead… drum roll, please… you know I made a cocktail."
---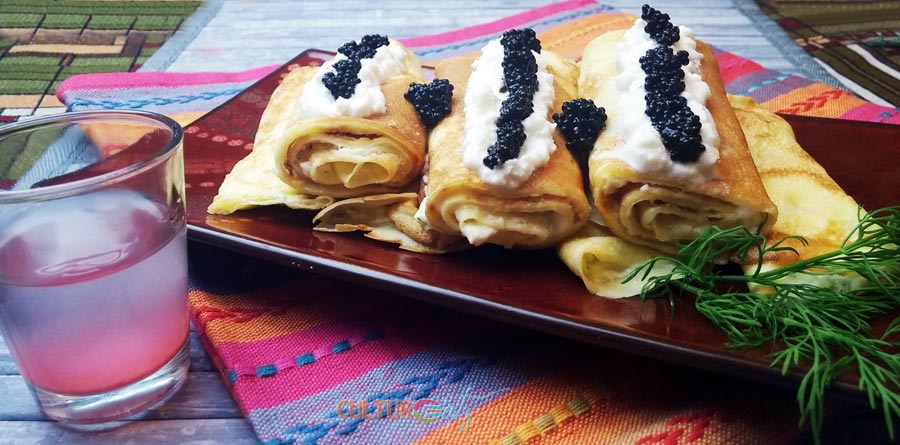 Evelyne of
Culture Eatz
made some
Ukrainian Cheese-Filled Crepes (Nalysnyky)
"Anya weaves in her memoirs with family tales starting pretty much after the fall of the royal family to modern history. She covers family stories dating back a few generations all the way to her immigration to the US. But the book is super heavily dosed with historical facts, more like a scholarly book. Since I had a personal interest, I just devoured all the information... Nalysnyky are thin Ukrainian golden crips crepes rolled up with a cheese filling that can be either sweet or savory. This savory version is made with a few snippets of fresh dill. Once the crepes are rolled up, they are cut into three sections and layered in a dish before a quick baked stint in the oven. And don't forget to lubricate each layer with a healthy dose of butter."
---
"The book was a bit tough to get through with all the Russian words and especially its references to obscure public figures. But the stories about her family and experiences were fascinating, especially her adventures in the kitchen with her mother. She recounts in Chapter Six that the 60's were remembered by Russians for one of the worst crop failures of an era... People spat at piles of canned corn, saying 'all corn and no bread'... Quite a difference from my annual obsession with fresh corn picked that day at my favorite farmstead. Whenever I go to one of our neighborhood summer gatherings, I make sure to bring my Indian corn pudding casserole... It feeds a crowd and in fact is an easy dish to make dish that can be baked in advance and reheated."
---
"The book picked up its pace for the second half and I enjoyed it much more, through to the end--which included a recipe for each decade. I think foodies who are also history buffs, will enjoy Mastering the Art of Soviet Cooking the most. Since I am not that familiar with Russian food and culture as compared to other countries, I'm glad we read the book and I walked away learning a lot--always a bonus... Traditionally, Okroshka is made with kvass, a rye-based fermented drink that is obscure here in America but yogurt or kefir, which is very easy to find nowadays, are great substitutions to add that fermented tang to this soup."
---
Claudia of
Honey from Rock
prepared
Salat Olivier
"Anya held a secret fixation with Lenin, despite her mother's anti-Soviet hatred of all he stood for. However as a child she considered herself a 'Mature Socialist'. That whole story is the funniest bit in her memoir. At the age of 9-10 years old, a 'proper black marketeer' she is bartering bits of Juicy Fruit gum and M&M's for money, services and favors, and eating at a nice restaurant from her proceeds, instead of attending a 'silly ballet' class... There was so much I would like to try as far as food... What I did settle on was the Soviet-style Potato Salad, Salat Olivier. Though just substituting our own breadfruit - very potato-like, for the potatoes, celery instead of cucumber, and added some radish. Also left out the apple, as that was not traditional anyway, but an addition by Anya's mother."
---
A great Thank you! to everyone who joined in this edition of Cook the Books.
I believe all the submissions I have received are presented in the roundup. However, mishaps are part of life, so if you find anything missing or in need of amendment anywhere in the roundup, please do let me know.
And now, I'll turn things over to
Deb of
Kahakai Kitchen
who will host the
August-September
edition in which we will read
Farmer Boy
by Laura Ingalls Wilder.
Arrivederci a presto!